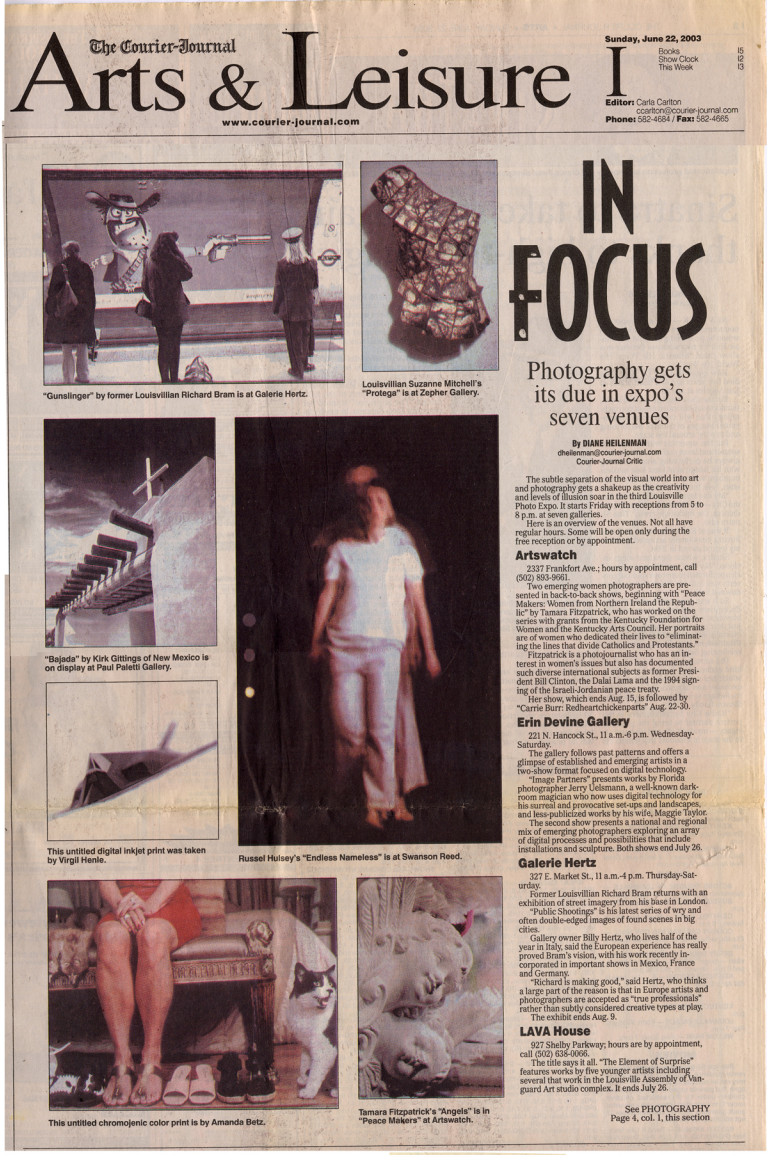 1619 Flux Art + Activism Gallery, "Meet Your Neighbors: Feminine & LGBTQ Perspectives" Exhibition, Louisville, KY Review
Louisville Photo Biennial, Louisville, KY Participant
Courier Journal Features, Louisville, KY Review
Leo Weekly Staff Picks, Louisville, KY Review
Insider Louisville, Louisville KY Interview Interview
ArtxFM WXOX 97.1 Interview with Keith Waites Interview
Leo Weekly, Louisville, KY Review
Louisville Magazine, Louisville, KY Review
Louisville Bride, Louisville, KY Collaboration
Courier Journal Arts and Leisure, Louisville, KY Review
Courier Journal Arts and Leisure, Louisville, KY Review echo vacuum
FOX Channel 41 Louisville, KY
"Art in Louisville". 6 o'clock am News. May 2002
WAVE Channel 3 NBC Louisville, KY
"Artist's Benefit Ball for the Homeless". 6 o'clock News. June 1, 2002
INSIDER LOUISVILLE
OCTOBER 2, 2015 11:28 AM EmailTweetinShare
7 Questions With … artist Carrie Burr
by Sara Havens
Carrie Burr
Artist Carrie Burr has always had a love of rifling through old photographs and historical prints, and that's what most likely led to her picking up her first camera and documenting the world. She prefers being behind the lens as opposed to in front of it, because, as she says on her website, "I can see without interfering … I love seeing the reflection from the camera into our world."
Burr's latest show, "Context of Unraveling," is part of this year's Photo Biennial and hosted by Louisville Visual Art at PUBLIC Gallery. The exhibit features multimedia installations that use photos, video, sculpture and space, and merges everyday objects like driftwood and wire to create complex images.
"My work addresses the yearning for the simple in a complex world even when the simple is complex itself," she says in her artist's statement. "The materials are basic. The content is not. The process is not."
"Context of Unraveling" runs Oct. 2-Nov. 2, and Burr is hosting an opening reception tonight from 6-8 p.m. PUBLIC Gallery is located at 131 W. Main St.
We caught up with Burr between snapping photos to ask her some very important questions …
What's the most surprising thing on your Bucket List?
I have never had a Bucket List really. Something I dreamed about but was never really sure of because, well, I wasn't was making art.
What poster was on your wall in junior high?
None. I had a collage of images on my closet door from National Geographic
If you were mayor, to whom would you give the key to the city?
Giving and earning are very different.
What are your preferred pizza toppings?
Garlic and olive oil with extra spinach, extra cheese, black olives and red onions.
Flappers ruled the day in the Roaring '20s.
If you could be any age for a week, what would it be?
Right now. Unless you meant an era, which would be the Roaring '20s or the '60s.
What famous person do people say you resemble the most?
My mom.
Who would you most like to be stuck with in an elevator?
He knows who he is!
OCTOBER 2, 2015 11:28 AM